Lawyers are necessary when it comes to all things legal, be it handling a difficult divorce, drafting wills and testaments, and even child custody battles. You will also need a professional lawyer to represent you in court, so choosing the right one makes it one of the most difficult decisions you will ever make. 
You will need to do more than just searching Google for names and advertisements, as choosing the first lawyer you see can be a recipe for disaster. You will want to ensure that the lawyer you choose can live up to claims and expectations, so never hesitate to conduct interviews.
The question now stands—what are the best questions to ask prospective lawyers? We have gathered the best and crucial—here are some of them;
Question #1: How do you communicate with and respond to client requests?
Unfortunately, one of the biggest challenges clients face after hiring a lawyer is their unresponsiveness. Clients complain mostly due to a lack of proper communication, so you will want to make sure that your chosen lawyer pays enough attention to answer your questions and requests. Although lawyers run a busy schedule, it is also part of their responsibility to help you. Some lawyers are unable to effectively handle clients due to a lack of support staff, so you will want to make sure that you engage with a law firm that is well-organized and efficient. 
The best lawyers will have the time to respond to your needs as quickly as they can, returning calls whenever necessary. Bear in mind that attorneys may not always be available for calls, but this is exactly why you need to also take the law firm into consideration. They need to have qualified and experienced staff members to help you get the answers you seek, allowing you the chance to schedule meetings whenever deemed feasible.
Question #2: What is your area of expertise? 
Most lawyers dedicate their careers to specific areas of the law, as this allows them to build a special skill set of those areas. As a general rule, however, many lawyers have knowledge about many areas of the law, but you will want to make sure that your chosen attorney can handle your case as efficiently and seamlessly as possible. 
You may get the answers you need, but it is highly likely that you need niche lawyers to help with your case, be it a divorce, trial, or personal injury case. That said, be wary of lawyers who profess expertise in specific fields—make sure to ask them for proof, which is the next point. 
Question #3: How have you succeeded with cases like mine in the past?
When it comes to finding the right lawyer, results matter. Bear in mind that your case may be different from others, but you will want to gain solid proof of success to ensure that your prospective lawyer can indeed handle your case. 
The attorney should be able to quickly respond to such a request, especially when it comes to further questions about their experiences, training, and even educational background. By doing so, you will gather a solid enough picture of what they can do for you, and how much value they can bring to the table, no matter how complex your case may be.
The Bottom Line
Although the world has become highly dependent on the digital landscape, there are some things that simply cannot be done online. One of them is finding the right lawyer—advertisements and reviews may be readily available, but nothing compares to a long and thorough interview. You will need a reliable lawyer to handle your case, after all—it is only fitting that you look for the best. That said, make sure to keep these questions in mind.
If you are on the hunt for the best lawyers in Jacksonville, FL, Harris Guidi Rosner, P.A. can help. We offer you talented attorneys that can handle both the legal and emotional needs of your case, be it personal injuries, family law, criminal, wrongful death, and even worker's rights. Allow us to defend your rights and stand by you no matter how difficult the case—we will aggressively look for ways to help you gain the justice you deserve. Contact us to schedule a free consultation today.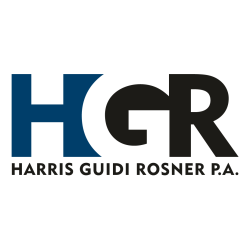 Latest posts by Harris Guidi Rosner
(see all)