When you need security, it is essential to hire a lawyer that you know you can trust. You should learn to choose only among the credible attorneys who can guarantee your safety and assure you that everything they do is for your best intentions.
To help you end up with a lawyer who can actually handle your case properly, you need to understand several factors that prove they have what it takes to defend your rights. They should have the proper knowledge and skills required to represent you in court and help you win your case.
 Keep reading below to find out what you should know when it comes to hiring a lawyer. 
Their Years Of Experience
Determining how much experience your attorney has is integral. Through this one aspect, you can tell if they're reliable or if their experience has pushed them to handle numerous cases. This can help them prepare ahead of time and know what it takes to be successful.
Their Expertise Or Speciality
It's important to know what specific cases your potential lawyer handles and if their practice is dedicated to your area of law. Their expertise can also prove if they are prepared to handle the legal issues you are involved with or if you need to look for someone else to represent you better.  
Their Previous Clients
Learning about your lawyer's previous clients will tell you if they prefer to handle client's with situations similar to yours. It would also help to know the financial history of your lawyer's clients, so you can assess how wide their range is and if they can assist varying types of clients.
Their Fees And Costs
It is crucial to learn early on about your lawyer's fees to help you prepare for the expenses. Knowing the payment options is also necessary so that you can manage each time your bill comes around. 
Knowing all of these can help you conclude whether you can afford to pay for your lawyer and all the costs involved.
Their Past Cases 
You should ask your lawyer if they have handled previous cases similar to your situation, including any instances they won or settled accordingly. Knowing the background of their past procedures may make you feel more confident, as you can tell that you are in good hands just by discovering that your lawyer is familiar with your situation.
Conclusion
Having an attorney to represent you in court is an integral part of any proceeding. Before you hire a lawyer, it is important to learn about their background, skills, and specializations.
Are you looking for a reliable lawyer in Jacksonville, FL, to assist you with your legal case? Harris Guidi Rosner, P.A is a law firm that focuses on helping clients with issues on personal injury, family law, criminal law, social security, workers' compensation, and more. Contact us today to schedule a free consultation.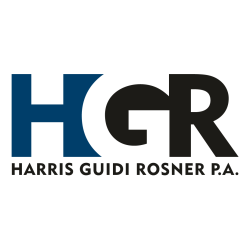 Latest posts by Harris Guidi Rosner
(see all)