If you fall victim to an injury caused by another party, you may be left with many questions surrounding your injury — such as the next steps you should take or if a lawsuit should be filed. 
Below, our team at Harris Guidi Rosner, P.A. share some of the most frequently asked questions we see in personal injury cases and what you should do following an accident:
Q: What is considered a personal injury?
A: A personal injury is either a physical or mental injury to a person that has resulted from someone else's negligence.
Q: In a personal injury case, what damages am I qualified for?
A: The damages you receive will depend on the cause and circumstances surrounding your injury. You could be entitled to compensation for medical expenses, pain, lost wages, loss of opportunity, loss of job/income, expenses from injury-related travel, and more. 
Q: How long do I have to file a personal injury claim?
A: Every state has a "statute of limitations" that determines how long you must file a personal injury lawsuit. In Florida, you must file a lawsuit anywhere from two to five years, depending upon the incident, and you have two years to file when your injury is a result of medical malpractice and/or wrongful death. The timeline depends on the time of the injury, which we will discuss further during our initial consultation. 
Q: How much do you charge as the lawyer for my personal injury case?
A: At Harris Guidi Rosner, our personal injury matters are handled on a contingency fee basis. This means our fees are based entirely upon making a recovery in the case. If there is no recovery in the case, there are no attorney's fees charged to you. We do not bill by the hour or require any up-front retainer. There are no attorney's fees charged for property damage reimbursement including rental car reimbursement as we allow those dollars to go directly to you. The attorney's fee is charged only against the bodily injury portion of the recovery.
Q: What is my personal injury case worth?
A: The value of your personal injury case depends on how you received the injuries, the extent of your injuries, and the ability to prove your injuries. Personal injury settlements can come in several different forms – or not at all.
Q: How do I know if my case is a workers' compensation case, a personal injury case, or both?
A:  A workers' compensation claim exists if you are injured while in the course and scope of your employment.  Your employer would be required to provide 100% medical coverage for you and pay you 66 2/3% of your wages up to a state maximum compensation rate if you miss a certain number of days from work.
Many times, our clients are injured in the course and scope of their employment by a negligent driver or as a result of a defective property condition on another's property.  In these situations, you have a workers' compensation claim and a personal injury claim.  It is very important to coordinate the benefits and insurance coverage in this situation to maximize your recovery in both claims. Our office handles both types of matters, so we will explore both possibilities with you. 
Q: How long will it take for me to get a settlement from my personal injury lawsuit?
A: The timing to receive a settlement depends entirely on your specific case. It could take anywhere from weeks to a few years depending on the nature of your case, the details involved, and how things are going with the other party/insurance company. If your case is complicated, settlement will take longer. 
Hire a Jacksonville Personal Injury Attorney After Your Accident
Above are just a few of the many Frequently Asked Questions regarding personal injury and personal injury cases. If you want more in-depth information surrounding your personal injury or potential personal injury case, your best solution is to talk to a personal injury attorney. At Harris Guidi Rosner, P.A., our Jacksonville Personal Injury Attorneys can help you determine if your specific case might be eligible for a personal injury settlement. We can answer any questions you may have about your unique personal injury case.
When you hire a skilled personal injury attorney, you will be informed throughout the entire duration of your case. A Jacksonville personal injury attorney can help you seek compensation from medical expenses and other losses from a personal injury accident.
An accident can happen at any time and can transform your life in an instant. You want an experienced, dedicated attorney on your side to help you deal with the aftermath and injuries from your unfortunate accident. A personal injury attorney in Jacksonville, such as our team at the law offices of Harris Guidi Rosner, P.A. are here to help. We will help you take control of your personal injury case, protect your rights, explain all of your options, walk you through the process, and get you the best/proper settlement from losses incurred from your accident. 
You can call us for a free consultation and talk to an attorney the same day. Our team at Harris Guidi Rosner, P.A. has been serving the people of Jacksonville and surrounding counties since 1976.  Our attorneys have the experience and knowledge that you want working for you in a time of crisis.  
To let the Harris Guidi Rosner attorneys assist you with your personal injury accident, call 904-777-7777 or click our Jacksonville Personal Injury Lawyer page to learn more. We have many years of experience in personal injury law and settlements.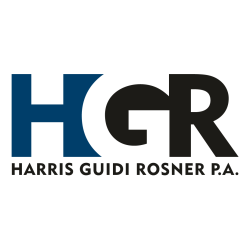 Latest posts by Harris Guidi Rosner
(see all)