At Harris Guidi Rosner, P.A. we think it is important that after a work accident you take a moment to review your social media accounts and consider the impact your social media use can have on your claim. Many of us are all used to sharing our latest life events with our friends and family on our social media accounts.  Unfortunately, after a work accident, and often when insurance companies and litigation become involved, there are some important considerations for your social media use until you recover and get through your workers' compensation case. 
If you have social media accounts, including but not limited to Facebook, Instagram or Twitter, you need to be very careful about what you post and how you present information if you have been injured in an accident at work. There are many ways your posts can hurt your case.  Sharing your personal information also allows the insurance company to learn more about you to assign surveillance for a check on your daily activities.
BE RESPONSIBLE, TAKE YOUR TIME, AND CHECK YOUR SOCIAL MEDIA PRIVACY SETTINGS
Check your privacy settings to see who has access to your Facebook account.  Insurance companies can be motivated to show that injured workers are active, busy and going places so that they can ultimately pay as little as possible at the time of settlement.  Do not give the insurance company extra, free information to do so. Insurance companies, and their attorneys, scour social media to learn more about injured workers.  While changing and watching your privacy setting is useful, do be aware that even if you have diligently increased your privacy settings, there are still ways to see what you are posting. One way is when your friends and/or family members may unknowingly give others access to your information through comments or tags.  Protecting your social media is not fool-proof which is why your attorney will be counting on you to use your good judgment regarding what you post and what photos following your accident you are in. Do not accept friends on Face Book while your case is open that you do not know. 
Take your time to contemplate and think before you post to social media.  If you are serious about your workers' compensation case, nothing on your social media accounts should take priority.  
Consider taking a break from social media until your case is over. 
IF IN ANY DOUBT, DO NOT POST ABOUT YOUR WORKERS' COMPENSATION CASE
Do not post information about your accident or case, even if you think it will be helpful.  For example, if you post any statements or photos that contradict your injury claim in any way at all, an insurance company or investigator may try to use that information against you. 
Do not assume you have the right to privacy when it comes to your social media accounts.  There is no reasonable assumption of privacy on social media. This means your posts can possibly be used as evidence against you in your workers' compensation case.
Do not ever post discussions with your attorney or mention of your legal events.  Also, do not post or discuss your medical treatment to the extent at all possible or the problems you are having dealing with workers' compensation.  Also avoid posting photos of you traveling while your case is open. The bottom line is do not discuss your case on line, including your doctor's visits.  
Hire a Jacksonville Workers' Compensation Attorney
Harris Guidi Rosner, PA is here to help you obtain all the benefits you are entitled to following your work accident and answer any questions you may have.  We can also discuss with you any questions you may have about your social media accounts and how your use of them can impact your case.
Please call us for a free consultation to explore your rights regarding your case at 904-777-7777, email us at mills@harrisguidi.com, or click our Jacksonville Workers Compensation page for more information.
With workers' compensation, we represent our clients on a contingency fee basis and will not receive compensation unless we settle your case or obtain benefits for you from the insurance company.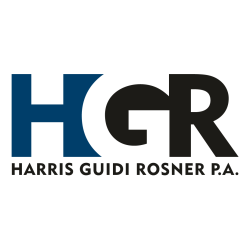 Latest posts by Harris Guidi Rosner
(see all)