Jacksonville is a city with so much to offer with its combination of laid-back beaches and bustling city. With so much to do and explore, it becomes necessary to find the ideal mode of transportation to make the most of the city. 
Traveling using a car is best for most people's needs—whether that's work, leisure, or otherwise. Many people from other counties are also finding work in Jacksonville, making the city's streets and highways busier than ever!
More traffic means greater risks for vehicular accidents, including pedestrians, cyclists, and autonomous vehicles. These are dangerous and unsettling circumstances to find yourself in, but being prepared in the event of an accident is important. 
Dangerous Traffic Conditions in Jacksonville Hotspots
The Southside of Jacksonville, near the beach areas, has a lot of traffic due to the Jacksonville Town Center's development and the growing population of the University of North Florida. The Town Center is formatted in such a way that the outdoor shopping is surrounded by parking areas. 
As the density of shops grows, it becomes more difficult to get around on foot! Combine this with changing traffic patterns, crosswalks, and new construction, and the area can turn into a risky area for pedestrians and drivers alike.
How to File a Car Accident Claim
Although car accidents can be quite jarring, one of the first things anybody should do is to capture as much information as possible. Try to do this to the best of your ability, especially if you are hurt or confused. The more information you gather, the greater your chances of building a solid case with the help of qualified accident attorneys. 
Here are some things you need to remember after a car accident:
1. Take Pictures of the Scene
Perhaps the most valuable piece of information you can provide to the authorities and your accident lawyers is photographic evidence of the accident's aftermath. If you're able to after the accident, then take as many photos as possible from different angles. Try to illustrate the driving conditions and where the vehicles were coming from, as well as the damages and other details you can take note of. 
2. Getting Witness Contact Information
If a crowd has gathered at the accident scene, then a few of those people might have been witnesses to the incident. Ask witnesses for their contact information in case their account of what took place is needed later on in the case. 
3. Call JSO to Report the Accident
Calling the Jacksonville Sheriff's Office to report the accident is crucial to ensure that they file a traffic incident report. Request for a copy of this report to keep on file for your case records. 
4. See a Doctor
Even if you haven't sustained any injuries from the accident and feel perfectly fine, many times it is valuable to get checked by a medical professional as your injuries may take a few days to develop. It is important to have this on record, and there may also be injuries that weren't so obvious right after the accident.
When to Hire an Accident Lawyer
We always recommend contacting us immediately in the event that you have been involved in a car accident. We will be able to review the offer and come up with a response.  We regularly work with hospitals and insurance companies to ensure that all your documentation is as complete as possible to earn you the compensation you deserve. 
Conclusion
An experienced attorney will use the evidence and documents you have gathered to make a strong case for you. They will help you get every penny you are entitled to after the accident and take on the brunt of the work so you can focus on recovering from the traumatic incident. We will work tirelessly to ensure you get the compensation you deserve while protecting your best interests every step of the way—financially, mentally, and emotionally. 
At Harris Guidi Rosner P.A., we pride ourselves on having highly qualified attorneys who can assess the legal and emotional needs of your case. We are located in Jacksonville, FL. Contact us today to schedule a free consultation.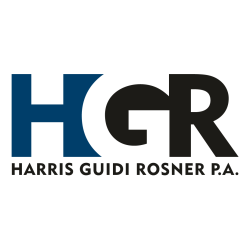 Latest posts by Harris Guidi Rosner
(see all)