If you have been pulled over for a traffic ticket in Jacksonville, Florida, it might seem like the end of the world. If you continue to fall victim to traffic citations, they can pile up on your record, meaning harsher fines, a suspended license, or even more serious repercussions. Fortunately, there is no need to fret because there are a few ways you can address your traffic ticket and improve your driving record.
If you get a traffic ticket in the state of Florida, you have three options:
Option One: Pay the ticket. It will count as an adjudication of guilt. You will receive points if it was a moving violation on your license and your insurance rates can go up. In Florida, you have the ability to pay your ticket online, in person, or by mail.
Option Two: Elect driving school, which entails the four-hour course. Adjudication will be withheld, which means no points will be added to your license. You cannot elect driving school if the ticket requires a mandatory court appearance. In addition, you can only elect driving school five times in a lifetime and only once within a 12-month period.
Option Three:  Contest the ticket. While this can be the most time-consuming option, it is often the most beneficial to you in the long run. When you contest a ticket, it means that you plead 'not guilty' and will have to address the ticket in court. While you are able to fight the ticket alone, it is highly recommended that you hire a Criminal Defense Attorney to handle the ticket in court on your behalf. Having an experienced attorney on your side will greatly increase your chances of a positive resolution to your ticket – preventing both fines and points on your license.
Looking for a Criminal Defense Lawyer in Jacksonville, FL?
Whether you just got a ticket or you currently have a traffic violation on your record, there is no need to worry. Our experienced Jacksonville Criminal Defense Lawyers at Harris Guidi Rosner, P.A. are ready to guide you through the ticket appeal process.  
Our team of professional Jacksonville Criminal Defense Lawyers will step in on your behalf – providing you with legal counsel to guide you through the next steps associated with your ticket or violation. In fact, many of our attorneys at Harris Guidi Rosner, P.A. are former Prosecutors, therefore we understand the system from both sides of the aisle. We'll put the law to work for you in a discreet and professional manner, by obtaining the best possible outcome for your situation.
We know how the criminal defense system should work and how it works in the real world. Let one of our experienced Criminal Defense Attorneys go to work on your behalf and help you address your traffic violation. 
To request an in-person free consultation at Harris Guidi Rosner, call 904-777-7777 or click our Jacksonville Traffic Ticket Attorney page for more information. Visit our Jacksonville Criminal Law page to learn about our Criminal Defense team.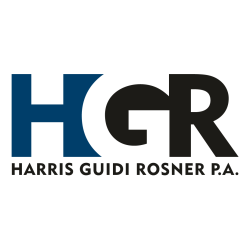 Latest posts by Harris Guidi Rosner
(see all)