Few people consult with a lawyer when they do not have pending cases. Often, people seek attorneys for legal representation in court or as mediators in a dispute. However, one of the best times to talk to a lawyer is when you don't need one; here are some reasons why.
1. They help you get the facts straight
Lawyers can answer many of the questions you have about particular cases. They can provide you accurate and up-to-date information about legal developments in your field or provide insights on how a specific rule or law applies in your area.
If you want to learn about a particular legal issue, it is best to consult with a professional. Even if you receive negative information, it is better than being paralyzed with uncertainty.
2. They help you realize your options
Lawyers help you identify what you could do in specific situations. Even if you arenot currently in legal proceedings, this is helpful, especially if you are a business person or a professional offering services. 
Although legal information is available online, you cannot be sure of its accuracy. Another thing to keep in mind is that law requires strict adherence to requirements, procedures, and deadlines. If you proceed without a lawyer , you might end up making mistakes, and missing deadlines you did not know were in place.
3. You get invaluable information
When you consult with a lawyer, you get information on current laws that apply to your case, how local courts have interpreted the law and strategies that work in specific situations. They are also aware of statutes of limitations and steps you could take to protect yourself, if necessary.
4. You proactively prepare for any situation
Although you cannot predict precisely when you will need an attorney, it isbetter to retain legal services before something life-changing happens to you. Before you open or close a business, sign a contract, purchase real estate or other significant assets, change your legal status, or receive serious medical treatment, you should consider consulting with a lawyer. 
What to look for in a legal representative
Of course, you cannot just hire any lawyer. Aside from finding an expert in local laws, you should get someone who displays several professional traits. For one, it is always good to find someone with good interpersonal skills. Choose lawyers who listen, treat you with respect, and patiently explain all available options. 
Conclusion – how to find a good lawyer
It's better to be proactive about finding legal representatives. When you look for a lawyer before you need one, you have more time to lay the groundwork, establish your case file, and get to know your attorney. It allows them to build a good strategy and gather the necessary documents, should you appear in court someday.
Harris Guidi Rosner, P.A. has 30 years of experience handling both state and federal cases, and our team of lawyers in Jacksonville, FL have experience in criminal, personal injury, workers' compensation, social security disability, general civil, and family law. Get in touch with us today for more details.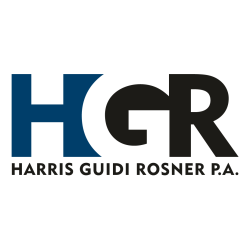 Latest posts by Harris Guidi Rosner
(see all)