Unfortunately, if you were injured in an accident you are most likely accumulating medical bills and may be missing work. If your injury was caused by the negligence of another party, such as a car accident or through medical malpractice, speak to an attorney to ensure that you are properly compensated for your damages. 
The types of injuries you may sustain from a personal injury accident could be: head, neck and/or back injuries, brain injuries, broken bones or fractures, internal organ damage, burns, bruises, cuts, sprains, and more. 
If your injury is costing you money and/or is limiting your ability to work and go about your daily life, you should consider contacting a personal injury attorney. If you decide to pursue a personal injury action, there are many steps you must take before you see compensation for damages:
First,Document the accident. Call the police to make a police report in which photos will be taken and information will be documented. If you are unable to get a police report, take your own photos and get contact information from witnesses.
Next, seek medical attention. A medical examination will reveal your injuries fast. By getting an exam right away, the other party can't claim you developed this injury from delaying treatment or from another incident.
Find a qualified personal injury attorney. Look for an attorney with experience in cases similar to yours. Look for a personal injury attorney that offers a free consultation and meet with him/her n. In the consult, ask questions about the legal process and openly discuss your situation – after all, consultations are confidential.
Next, your attorney will investigate the case and look through your medical records to see the strength of your case. Your current medical condition and medical records, along with the account of the accident, will determine if you can easily move forward with your case.
Then, your attorney will work on establishing fault to prove that the other party was negligent to cause an accident that resulted in your injuries. For example, with a car accident, you would have to prove the other party was speeding, driving under the influence, or made a traffic violation. With medical malpractice, it could be considered negligent if the medical professional didn't adhere to a standard of care.
Your attorney will also work with you to calculate damages, which is the money you are demanding in the lawsuit from the other party. When calculating damages, you and your attorney will consider your medical expenses, loss of income, emotional distress, pain, and loss of enjoyment. This step could take a few weeks or months.
Once the evidence is gathered and the lawsuit is drafted, you can file the lawsuit within the statute of limitations, which is within four years of the injury for most personal injury claims and two years for medical malpractice claims in Florida.
Before the trial, the discovery process occurs where each party can seek information from the other.
At some point after the filing of a lawsuit, a mediation will take place. During mediation, your attorney will work to resolve the matter with the at-fault party through the use of a mediator to avoid the need to go to a trial.
If mediation is not successful, the case will go to trial which can last from one day to several weeks. The length depends on the number of witnesses and complexity of evidence.
Hire a Jacksonville Personal Injury Attorney After Your Accident
Going through a personal injury case can be stressful and emotional, but if you hire a skilled personal injury attorney, you will understand the process every step of the way. A Jacksonville personal injury lawyer from Harris Guidi Rosner, P.A. can help you seek compensation from medical expenses from a personal injury accident.

An accident can happen at any time and can change your life in an instant. You want a skilled attorney on your side to help you deal with the aftermath and injuries from the accident. A personal injury attorney in Jacksonville, like our team at The Law Offices of Harris Guidi Rosner, P.A. are here to help. We can help you take control of this case, protect your rights, explain all your options, walk you through the process, and get you the best/proper settlement from losses incurred from the accident.
You can call us for a free confidential consultation and schedule an appointment to meet with the attorney that will handle your case. The law firm of Harris Guidi Rosner, P.A. has been serving the people of Jacksonville and surrounding counties since 1986. Our attorneys have the experience and knowledge that you want working for you at a time of crisis.
To let the Harris Guidi Rosner attorneys assist you with your personal injury accident, call 904-777-7777 or click our Jacksonville Personal Injury Lawyer page to learn more. We have many years of experience in personal injury.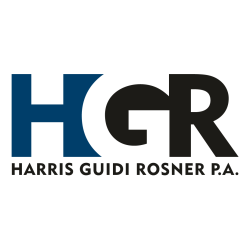 Latest posts by Harris Guidi Rosner
(see all)