Types of Trusts in Florida
When you are exploring other financial options to retirement, beyond individual retirement accounts (IRAs) and 401ks, one option is a trust. There are different types of trusts in Florida, so which one is right for you?
The popular belief about trusts is that they exist only for the benefit of heirs after their parents or guardians passing. In the event of their death, there will be money to take care of them. It is held in an account controlled by a lawyer or other custodian.
These trusts do exist, but there are others that serve different purposes. Some for tax benefits, others for retirement, others for your estate after you pass.
Different Types of Trusts in Florida
Basically, there are two types of trusts in Florida:
living trust
testamentary trust
I know, I stated earlier that there were different types of trust for different purposes. And that is correct. However, all trusts exist as one of these two types.
The difference between the two is very simple.
A living trust is established while a person is alive (the person who requests the trust be set up).
A testamentary trust is established in a person's will. It takes effect after the person's death. These are sometimes referred to as a "will trust," or a "trust under will."
Revocable Trusts and Irrevocable Trusts
There is another distinction that can be applied to both living and testamentary trusts. That is the distinction of being revocable or irrevocable.
A revocable trust allows a person to control the trust and the trusts' assets. The terms of the trust can be changed or revoked whenever.
Irrevocable trusts, on the other hand, generally do not allow a change in the terms of the trust. The exception being with the beneficiary's consent. In an irrevocable trust, the person no longer controls the assets of the trust. As the assets of this trust appreciate, they will not be subject to estate taxes.
A living trust can be either revocable or irrevocable. A testamentary trust is revocable as long as the person who established it is alive.
While he is alive, it is just the instructions to create a trust after his passing. it doesn't actually exist as a legal trust yet. Anyone has the right to tear up their old will and make a new one at any time. They may decide to not create the testamentary trust in the new will – thus they can revoke the trust.
After their death, the trust does become irrevocable, however. When the person dies and is no longer able to change the terms of his will, the trust into being as an irrevocable trust.
Trust Variations
There are trusts for a variety of purposes. Trusts to accomplish different goals, or to protect assets. Trusts such as:
credit shelter trusts
generation-skipping trusts
qualified personal residence trusts
irrevocable life insurance trusts
qualified terminable interest property trusts
and so on.
Each of these have a specific purpose. They accomplish a single or even multiple goals for the creator. To learn more about trusts can help protect your assets, contact us for a free consultation.
Jacksonville Estate Planning Attorneys
The Jacksonville Estate Planning Attorneys at Harris Guidi Rosner can help you understand the benefits of the different types of trusts.
Based on your goals and you specific situation we can help you develop a comprehensive estate plan. They can help give you, your family and loved ones the peace of mind.
Consultations are free and just a simple phone call away. Call 904-777-7777 or use our simple online contact form.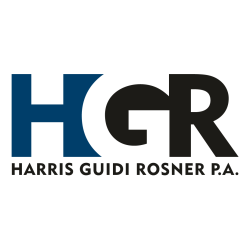 Latest posts by Harris Guidi Rosner
(see all)