Accidents can happen anywhere, especially slip and fall accidents. With slip and fall accidents, the cause of the accident is often not the fault of the person who slipped. By law, properties and walkways must be maintained in a way to guarantee you can walk through safely, a responsibility known as premises liability.
If you slip, trip, or fall on someone else's property due to the owner's negligence, you may be entitled to compensation that could pay your medical bills, loss of income, and even for the pain you endured after the fall.
After you fall, what do you do? Below are some things our team at Harris Guidi Rosner, P.A. recommends you do following a slip and fall accident:
If you are hurt, get medical treatment. Get your injuries examined and documented. A doctor's record of your injuries can be later used as evidence if you seek compensation.
Make sure you report the accident regardless of where it occurred. Tell the grocery store manager that you fell in the fruit aisle. Tell your landlord you fell in the lobby. Ask a manager, owner, or landlord to write up a report of the incident and get a copy. You want the accident on record.
Get information. If people saw your fall, get their names and contact information in case you need witnesses down the line.
Take photos of the exact place where you fell, whether it was on a wet floor or icy steps.
Write down exactly how the slip and fall occurred; include the time and date.
Safely store away the clothes and shoes you were wearing during the accident.
Do not share details of your accident on social media.
Do not talk to an insurance company until you've spoken to a personal injury attorney. Limit what you say to the owner/landlord/manager of the place where you fell.
Do not place blame or take any.
If you are considering taking legal action, contact a personal injury attorney.
Considering slip and fall cases are complex and often difficult to prove, it is in your best interest to work with a personal injury attorney. Our experienced personal injury attorneys at Harris Guidi Rosner know the ins-and-outs of the Jacksonville legal system and can make a difference in your case.
Hire a Jacksonville Personal Injury Attorney After Your Slip and Fall Accident
Going through a slip and fall lawsuit can be stressful and emotional, but if you hire a skilled personal injury attorney, you will understand the process every step of the way.  A Jacksonville Personal Injury Lawyer can help you seek compensation from medical expenses, lost wages and more.
Don't get stuck paying the medical bills from an accident caused by someone else's negligence.
At Harris Guidi Rosner, P.A., we will do the work to prove you are not the party at fault. Our team can help you take control of your situation, protect your rights, explain all your options, walk you through the process, and get you the best/proper settlement from losses incurred from the accident.
You can call us for a free personal injury consultation and talk to your attorney that same day. The law firm of Harris Guidi Rosner, P.A. has been serving the people of Jacksonville and surrounding counties since 1976.  Our attorneys have the experience and knowledge that you want working for you after a slip and fall accident. To let the Harris Guidi Rosner attorneys assist you with your personal injury accident, call 904-777-7777 or click our Jacksonville Personal Injury Lawyer page to learn more. We have many years of experience in personal injury.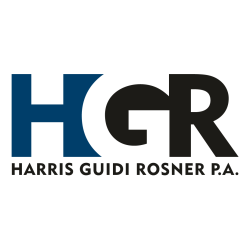 Latest posts by Harris Guidi Rosner
(see all)