Car accidents happen all the time. According to the FHSMV (Florida Highway Safety and Motor Vehicles), there were over 400,000 reported accidents in 2018 alone, with over 254,310 injuries. With car accidents frequently occurring, many require assistance from a Jacksonville personal injury attorney.
Whether you are at fault or the victim of a car accident, legal advice from a personal injury lawyer in Jacksonville can prevent you from making mistakes that could damage your claim. Don't wait too long to consult with a lawyer, especially since injuries can worsen over time.
We always advise contacting us following a car accident. Below are some specific situations where a lawyer will assist you following an accident:
If it is unclear who caused/is responsible for the accident.
If you do not know how to determine the damage.
If you do not know how to prove lost wages.
When an insurance company makes you an offer you think is unfair.
If you need to negotiate a settlement.
If an insurance company is requesting medical records from before the accident.
When the cause of the accident requires expert investigators or witnesses.
If an insurance company denies your claim or makes a low offer.
If the other party involved files a lawsuit against you.
If you are injured.
If you are temporarily or permanently disabled from the accident.
If someone injured is a minor.
When your loss is harder to prove. For example, you can no longer care for a dependent.
After an accident, injured or not, you are likely going to feel shaken, stressed, and will be unsure what steps to take. It can be difficult, at first, to determine the long-term consequences of an accident. Soon after the mishap, you will want to consult with a trustworthy and experienced personal injury attorney. During your consult, you should inform your attorney of as many details as you can about the accident. Be sure to consult with this attorney before discussing the accident with representatives of an insurance company and especially before you sign any paperwork.
Hire a Jacksonville Personal Injury Attorney in Jacksonville
When involved in a car accident, you will want a skilled attorney on your side to help you deal with the aftermath. Fortunately, our team of personal injury attorneys at Harris Guidi Rosner, P.A. are here to help. Not only will our team ensure you gain control of your case, but we will help you understand all of your options and discover the best possible outcome for your situation.
You can call us at any time to schedule your free consultation. During your consultation, you and a personal injury attorney will discuss your situation, develop your legal claim(s), and determine what the best strategy would be to resolve your legal matter.
To let the Harris Guidi Rosner attorneys assist you with your personal injury, call 904-777-7777 or click our Jacksonville Personal Injury Lawyer page. Visit our Car Accident Lawyer Jacksonville Fl page to learn more about our team.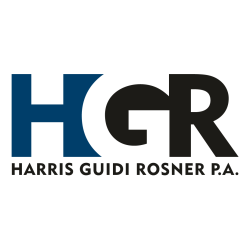 Latest posts by Harris Guidi Rosner
(see all)