They Know the Right People
Hiring a local attorney to represent you gives you many advantages over a non-local attorney. During the initial meeting, a local attorney will know who they need to contact before the process even begins. For instance, if you were given a traffic citation, a local attorney may know the officer who cited you. A local lawyer will have familiarity with the judges, prosecutors, the clerk of courts, and everyone involved with the legal process. The familiarity with the procedures a local attorney has around the courthouse can make a big difference.
History in the Courtroom
Knowing the history of the courtroom and how a judge has handled situations similar to yours in the past is very beneficial. For example, some arguments may persuade one judge more than another. A local lawyer knows which arguments have worked with certain judges in the past. A local attorney's knowledge of the history of a particular courtroom will help present your case in the best way.
Knowing Local Courtroom Rules
Each court abides by its own particular rules of practice. There are many rules in each courtroom and some are taken more seriously than others. A non-local attorney may offend a judge by not knowing a particular rule. For example, different courts follow different practices regarding where to stand when addressing a judge. Courts can also vary regarding who must appear at a particular hearing. With so many rules in so many courts, one attorney simply can't know them all for every area of the state — that's why it pays to use a local lawyer.
A Strong Reputation in the Community
Attorneys know it's important to maintain a good reputation in the courtroom, especially if it's a courtroom that they practice law in regularly. A local attorney has more incentive to keep a good reputation in his hometown than a visiting attorney. A local lawyer is more likely to come prepared to do all they can for your case and their reputation.
If you are looking for a reputable attorney with a convenient location in Jacksonville FL, Contact Harris Guidi Rosner, P.A. today!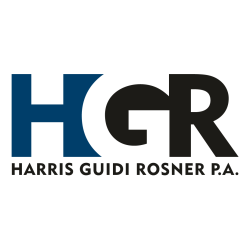 Latest posts by Harris Guidi Rosner
(see all)