Choosing just the right lawyer can be a daunting decision since there are so many things to consider. As you search for the attorney that can represent you best, you might be wondering whether it's appropriate to meet with them before making your decision. You might also want to interview other lawyers before choosing the right one but are simply unsure of how to go about it. 
When speaking with prospective attorneys before hiring them, here are some things to consider.
Is it appropriate to meet with a lawyer before hiring them?
Although most lawyers will not charge a fee for an initial consultation, it is best to inquire before scheduling your appointment. This meeting is meant for you, as the client, to get acquainted with your prospective attorney, their area of expertise, and how they can best represent you and your situation. Typically, the initial meeting is enough to gauge whether or not you are comfortable with the attorney and their ability to handle your case. 
If you feel intimidated by speaking to a lawyer, then it is best to remember that you are the one hiring them, and that you have to be comfortable working together. Aside from that, preparing a list of questions before your meeting will help you feel more confident. A few examples of questions you can ask during your meeting are the following:
How long have you been practicing law? 

What is your experience and areas of practice?

What legal problems do you encounter and handle most often? 

Are most of your clients individuals or businesses?
What details of the fees and costs should I be sure to ask?
It is important to inquire about what fees your prospective lawyer will charge and how these will be settled, as it can vary. Some lawyers may charge by the hour while others will base their fees on a per case basis. Some might even base it on the amount recovered. 
Ask for estimates on how much is required to handle the case from beginning to end, when the bill must be paid, and the payment terms (upfront or in installments).
Is it acceptable to interview other lawyers before making my decision?
While it may feel like a violation of the trust of the first lawyer you interviewed, there is nothing wrong with choosing the best candidate that can represent you. It certainly helps to be more informed when you consider several lawyers, and you can feel more confident in your decision after you have spoken to several. 
Is it acceptable to ask about the possible outcome of the case during the initial meeting with a prospective lawyer?
You are gauging not just the lawyer's qualifications but their overall ability and likelihood of success on your behalf. It is good to ask this question and weed out any attorneys who promise a sure victory or a big settlement. Good lawyers who have your best interests in mind will give you realistic expectations. 
What if the lawyer I met refers me to another lawyer? 
This is nothing to be worried about. Lawyers will occasionally recommend a colleague in the same firm or elsewhere to handle your case, depending on a range of factors. They might know someone who has more experience in handling your particular situation. Do not hesitate to set a meeting with the new attorney to understand how they can better represent you. 
The Bottom Line
Although it can be an intimidating task, interviewing prospective attorneys is a necessary step in hiring representation. When you come to these interviews prepared with detailed questions, there are better chances for you to find a strong representative to help you. Keep in mind that you may be working with your attorney for any length of time, depending on the progression of the case, so having someone you trust on board is crucial. Speaking with your prospective attorney is the best way to find the right one.
Here at Harris Guidi Rosner, P.A., you can depend on qualified lawyers in Jacksonville to assess both the legal and emotional requirements of your case. We take pride in standing by our clients and representing them well, as we take the best course of action in our representation. Call, text, or reach out to us on our website to schedule a free consultation.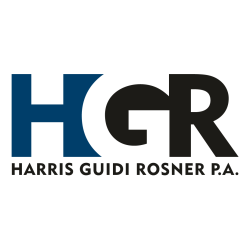 Latest posts by Harris Guidi Rosner
(see all)