Workers' Compensation: Accidents That Happen Going and Coming to Work
At Harris Guidi Rosner, P.A. we are often contacted by people who were injured coming or going to work.  Usually, for a carrier (an insurance company) to owe medical and money benefits to someone after a work accident, the accident must be in the course and scope of the injured person's employment.  In most cases, workers traveling to and from work are not in the course and scope of employment unless 1) they are on duty 2) they are on a special call or errand or 3) they are in transportation provided by their employer.
Driving to work is not a usual hazard of the job for most people.  Therefore, workers are not afforded workers' compensation coverage until they arrive on the premises of the employer, in most circumstances. Usually, the "going and coming rule" begins and ends when an employee enters or leaves his or her employer's place of business.
If you an injured in a parking lot, going or coming to work, one of the very first things you will want to find out to discuss with your lawyer is who owns the parking lot you were hurt in.  If your employer did not own the parking lot, examine, determine, and share the details with your lawyer if your employer had a special degree of control over the parking lot area. This can have legal significance.
If you were hurt traveling between your employer's locations, the going and coming rule should not apply and generally, a workers' compensation carrier will provide you benefits.    You can also qualify for benefits if you get hurt on your employer's property as you arrive for work, even if you have not clocked in for work yet.  See Doctor's Business Service, Inc. v. Clark, 498 So 2d 659 (Fla. 1st DCA 1986). What the Court is going to look for is whether you were providing some service for your employer when you were injured, when determining if benefits are due.
In Florida, an employee injured while picking up her final paycheck was awarded benefits through workers' compensation.  See Phillips v. Unicare Amelia Island, Inc., 458 So.2d 50 (Fla. 1st DCA 1984).
If while traveling you are doing a special errand or special mission for your employer, and you are injured, you can expect that your accident would be covered by workers' compensation.  The same is true if you are injured while employer-provided transportation.
We're Here to Help
To request an in-person free consultation at Harris Guidi Rosner, call 904-777-7777, by email at mills@harrisguidi.com  or click our Jacksonville Workers Compensation for more information.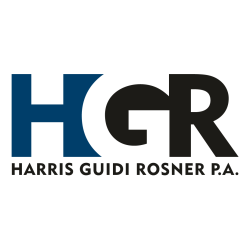 Latest posts by Harris Guidi Rosner
(see all)