All business owners, including supervisors and managers, are responsible for making their working environment safe for all their employees, regardless of what industry they are in. If they fail to do so, and an accident occurs, they must provide their workers with compensation through their insurance provider. The employee must notify their employer of their injury/accident right away, and the employer must immediately file a claim with the insurer.
If you want to know the common reasons that workers file for compensation claims, here are the top seven scenarios to watch out for: 
1. Getting hit by falling objects
This can happen in any work setting. Whether you work in a construction area or an office, getting hit by random falling objects can cause a serious accident, especially when people get hit on the head. Falling object injuries can come from different causes, but they mostly occur in the construction, warehousing, and forestry industries.
2. Trip-and-fall hazards
Scattered items, debris, and cables in a workplace can make the environment hazardous for most workers. Uneven flooring or carpeting and the use of slippery tiles can pose a threat as well. The best way to avoid such accidents is to ensure that everyone follows strict cleaning regulations or have a dedicated group to ensure that the whole place is free from any slip-and-fall hazards.
3. Getting electrocuted
Improperly installed, damaged, or overloaded equipment can pose many electrical incidents in the workplace. A live wire and other wiring issues in a wet environment can also be life-threatening. Electrical dangers are a common and serious problem in construction and industrial settings. People who work with live wires should be certified to do so, while other employees should not interfere with wirings they are not familiar with.
4. Accidents with heavy machinery and equipment
This type of accident is often encountered during demolition or manufacturing jobs when big machines are involved. Again, only trained workers should be allowed to participate in this kind of activity. Defective machines and tools can also create a dangerous situation for workers who need to use them to perform their jobs. 
5. Driving accidents
Accidents can happen anytime when you are driving a vehicle for work. You can be a delivery driver, a food courier, a police officer, or a mail service provider, and still be caught in a road accident no matter how careful you are when you drive. It is a prevalent type of accident and is also one of the leading reasons for filing a worker's compensation claim.
6. Exposure to toxic substances
Many employees get daily exposure to harmful substances. It can lead to illnesses, injuries, or health issues over time. Their employers should provide them with protective safety gear to ensure that they are protected from these toxic chemicals at all times.
7. Overworking
When a company forces employees to overwork, it can lead to physical injury. Some jobs may look simple, but repetitive and monotonous work for long hours can injure a worker. Developing carpal tunnel, fatigue, torn ligaments, twisted joints, exhaustion, and even psychological issues related to the workplace or your work injury should be under your worker's compensation. 
Conclusion
Now you know the most common reasons people get injured and hurt at work. If you are an employee who got injured due to any of the reasons listed above, make sure that you file for a compensation claim to get the benefits you deserve. Follow your company's workers compensation claim process, including their set deadline, and consider hiring a dedicated workers' compensation lawyer to make sure you get things done in the best way possible. 
If you are in the Jacksonville area and are looking for legal help with your workers' compensation claim, Harris Guidi Rosener P.A. is ready to help you in your time of need. Contact us today by call or text at 904-777-7777 to schedule your free consultation.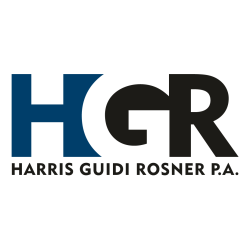 Latest posts by Harris Guidi Rosner
(see all)