If you have injured your teeth in a work-related accident, you may be entitled to medical benefits including dental care and replacement of teeth.  The first important step is promptly reporting any work accident involving your teeth to your employer when it occurs so that your employer can notify its workers' compensation insurance carrier. Additionally, if there is evidence regarding your dental injury that can be documented, it is best to take photographs close in time to the injury for proof regarding your dental needs and injury.
It is a common misconception that dental injuries are not covered benefits in a work accident in Florida.  If you have sustained a work-related injury including damage to your teeth, contact the workers' compensation department at Harris Guidi Rosner P.A. to discuss your entitlement to the following benefits:
Entitlement to dental care and medical treatment.  This can include emergency room care, dental bills, medication and follow up care related to your injury.
Compensation for your time missed from work.
Compensation for mileage for medical care including any trips to the emergency room, your dentist and to the pharmacy.
Provision of transportation to your medical appointments if you need assistance with transportation.
Dental injuries can be serious claims with significant future medical needs.  You may want to discuss with us if you can use your own dentist or if the insurance carrier will have the ability in your case to select a dentist for you for your on-going care.  Additionally, for some injured workers, dental trauma results in headaches and jaw pain and can involve the need for other medical specialties in addition to treatment with a dentist. If you have jaw pain, as part of your dental injury, it is important you tell your doctor about your symptoms. Temporomandibular joint (TMJ) disorder can be caused by an impact to the jaw.  This disorder is one of the costliest dental injuries and insurance companies may avoid providing medical care and treatment unless there is a clear connection to your work accident. Treatment for TMJ ranges from medications to injections to even complete joint replacement.
Dental injuries are less common than many other types of injuries in Florida workers' compensation.  Due to how infrequent these types of claim can be, often the insurance adjuster assigned to the claim lacks the necessary knowledge of dental terminology, dental coding, and billing procedures to appropriately and timely administer your claim. Unlike the usual work-related injury, the typical work-related dental claim requires on average 17 dental visits (according to Laura McLain, author of Managing Dental Claims in Workers' Comp, 11/1/11).
Hire a Jacksonville Workers' Compensation Attorney
Here at the law firm of Harris Guidi Rosner P.A., a knowledgeable and experienced workers' compensation attorney is available for a free consultation to discuss if your dental injury may qualify for workers' compensation benefits in Florida.  To request an in-person free consultation at Harris Guidi Rosner, call 904-777-7777 or click our Jacksonville Workers Compensation page for more information. You may also email us at mills@harrisguidi.com to schedule a time to discuss your legal rights and your case.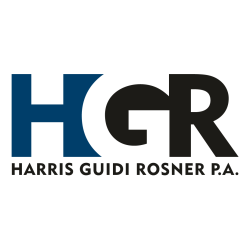 Latest posts by Harris Guidi Rosner
(see all)