So you have received your first denial letter from Social Security. You have heard from friends and family members alike that it is important for you to hire an attorney to help you appeal this denial. However, you may have the image of huge social security attorney fees. An attorney who charges a large hourly rate any time they touch your file. Fighting for Social Security, you cannot afford a hefty retainer and more bills coming in every month.
Calculating Social Security Attorney Fees
Social Security attorneys get paid differently than say, family law attorneys. Social Security attorneys are paid on a "contingency basis".  This means if you don't win, we don't get paid.
The contingency fee rate for Social Security attorneys is 25% of any back due benefits they help you secure, up to $6,000. Let's take a look at a couple of examples.
Example 1
For the first example, we will say that you win your appeals with Social Security and your total back due payment amount is $24,000. Your social security attorney fees will be $6,000 and you will receive $18,000.
Attorneys Fees – $24,000 x .25 = $6,000
Your Award – $24,000 – $6,000 = $18,000
Example 2
If your total back due payment amount is $10,000, the attorney will receive $2,500, and you will receive $7,500.
Attorney Fees – $10,000 x .25 = $2,500
Your Award – $10,000 – $2,500 = $7,500
Example 3
However, if your back due payment is $30,000, the attorney's fees will cap out at $6,000.
Attorney Fees – $30,000 x .25 = $7,500 but only gets $6,000(cap)
Your Award – $30,000 – $6,000 – $24,000
So no matter how much you win in back due benefits, the most your attorney gets from the back due benefits is $6,000.
Attorney Costs
In addition to attorney fees from back due benefits, there are often costs associated with your Social Security claim. Costs are due to your attorney in addition to their fee, and they typically include items such as, but not limited to:
medical records requested on your behalf,
copies,
postage and faxes
Every attorney collects their costs differently, and it is a topic that you should discuss in the initial consultation with your attorney.
At Harris Guidi Rosner, we always offer a free consultation for Social Security Cases. We will go over your case with you and explain the entire process. We make sure you understand how social security attorney fees and costs are calculated and collected.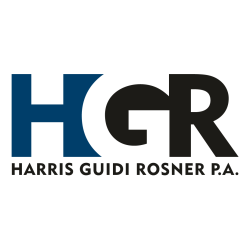 Latest posts by Harris Guidi Rosner
(see all)