Car accidents are a top cause of personal injury in Florida. According to the data from Florida Department of Highway Safety and Motor Vehicles 341,399 car crashes were recorded in 2020. These crashes resulted in 15,614 incapacitating injuries. Many people may think that Florida's No-Fault policy prevents the people in these accidents from suing for damages, but that is not the case. No-Fault policies ensure that the parties involved in a car crash are given adequate medical care. They do not prevent anyone from proving fault towards the party or suing for compensation, especially in accidents where someone is seriously injured.
In order to meet the legal definition of "serious injury" the injured person must have experienced at least one of the following as a result of the accident:
• significant and permanent loss of an important bodily function
• permanent injury, within a reasonable degree of medical probability
• significant and permanent scarring or disfigurement, or
• death.
If the party's injuries meet this definition then they can file a personal injury lawsuit against the at-fault party. Incurring a serious injury also enables the injured party to pursue compensation for non-economic losses like pain and suffering.
In order to register a car in Florida, drivers must carry $10,000 in personal injury protection (PIP) benefits and $10,000 in property damage liability (PDL) benefits. The PDL benefits are required in case a driver damages someone else's vehicle or other property in an accident. Driver's are not currently required to carry Bodily Injury (BI) coverage, which is what protects a driver if they hurt somebody else. Most importantly, we always recommend people purchase as much Uninsured/Underinsured Motorist (UM) coverage as they can afford, as this is what protects you in the event that someone else causes you injuries, and they did not have the proper coverages on their policy to protect you. This is the best way to protect yourself from the negligence of others.
If you or someone you know has been injured due to the negligence of another individual, contact Harris Guidi Rosner, P.A. Having an experience attorney in personal injury law handling your case increases your chances of success. Let Harris Guidi Rosner, P.A. get you the compensation you deserve.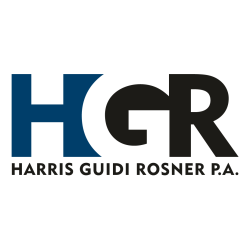 Latest posts by Harris Guidi Rosner
(see all)