Getting arrested for a DUI is confusing, especially if it's your first time being arrested for a DUI. There's a lot you need to know about the process after the initial arrest. You'll have to go through a lot of legal hoops, as well as a long process with the DMV. It's important to call a Jacksonville Criminal Defense Attorney, as they will help you through the process.
First Appearance
After you're arrested, you will be brought in front of a judge within the first 24 hours. During this hearing, a judge will determine if there is probable cause for your arrest and may set a bond. Before this hearing, call a lawyer. They will be able to represent you during this hearing and additionally, walk you through the process afterward. It's important to contact a lawyer before your first appearance.
Driver's License
In Florida, your first DUI conviction will result in your driver's license being suspended for at least six months, up to a year. During this time, do not drive at all. Find another way to get around. Our team at Harris Guidi Rosner, P.A. recommends using a rideshare app, carpooling, and using public transportation. In some instances, you may be able to obtain a hardship license which will allow you to drive to specific places such as your work and to pick up your children.
Pre-Trial
After your first appearance, your attorney will handle your "pretrial" matters. This is a series of court dates over the course of several months where the attorney investigates the facts of your case. During this time, your attorney will obtain all evidence from the State and review it for possible defenses. This evidence, also called discovery, will include DUI videos from Dash Cams of police vehicles, and a multitude of reports. Often, your criminal defense attorney will conduct depositions of the witnesses involved in your arrest to find out as much information as possible and determine all defenses.
Once the discovery phase is complete, your criminal defense attorney will then determine if there are any applicable motions that need to be filed. This could include motions to have your evidence suppressed based upon, for example, an illegal stop, an illegal detention, an illegal search, or an illegal seizure.
Trial
While many cases resolve short of a trial, some do not. When your criminal defense lawyer and the prosecutor are not able to come to an agreement on the resolution of your case, a trial takes place. At the trial, the State will put on all of its evidence before a jury which they believe is sufficient to convict you of DUI. Your criminal defense attorneys will participate in that trial, highlighting your defenses, and what they believe to show your innocence.
Sentencing
If you are convicted of your first DUI, the court can do many different things. First, your license can be suspended for up to a year. The court will impose fines up to $2,000, and place you on probation for up to a year as well. As a part of your probation, the court will require that you do at least 50 hours of community service, DUI school, and likely participate in a Victim Impact Panel class.
Depending upon the facts of your case, the court can also impose jail time as a part of your sentence. Having a lawyer at the sentencing phase is very important so that the judge is aware of any mitigation (evidence which suggests why you should receive a lighter sentence) which the court should consider before imposing a sentence.
Looking for a Criminal Defense Lawyer in Jacksonville, FL?
When you're facing a criminal charge in Jacksonville, there is no need to worry. The experienced criminal defense lawyers at Harris Guidi Rosner will guide you through the process.
The criminal defense process is frustrating and at times difficult. Our team of experienced Jacksonville Criminal Defense Lawyers is ready to step in and level the playing field on your behalf. With a Jacksonville, FL DUI Attorney, you will have legal counsel to guide you through the next steps associated with your DUI.
We'll help you understand the charges brought against you and what that means going forward. If you are facing a criminal charge, no matter how large or small, having a criminal defense lawyer with you to explain the process and your rights will make the process easier for you.
We know how the criminal defense system should work and how it works in the real world. Let our extensive knowledge and experience go to work on your behalf. To request an in-person free consultation at Harris Guidi Rosner, call 904-777-7777 or click our Jacksonville Criminal Law page for more information. Visit our Jacksonville Criminal Defense Attorney page to learn about our team.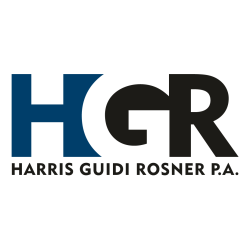 Latest posts by Harris Guidi Rosner
(see all)